Apple iPhone 6 and 6 plus sales top ten million in first weekend
Posted by Peter Pan at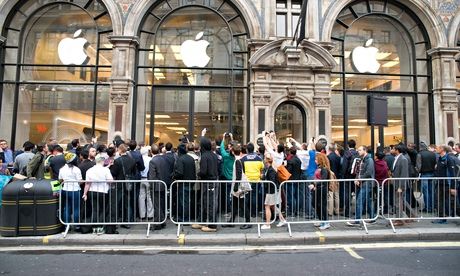 More than 10m iPhone 6 and 6 Plus phones were snapped up in their first three days on sale, Apple has said, setting a new record despite the phones not being available in China.
The figure includes sales to mobile phone operators as well to consumers, some of whom queued for days outside the company's stores around the world. The total exceeds last year's sales of the new iPhone 5C and 5S, which reached 9m in the first weekend. In 2012, sales of the iPhone 5 were 5m.
The first-weekend totals in 2012 and 2013 were boosted by sales in China, which according to analysts has the largest number of iPhone users in the world. The government there has not yet approved the new models for sale.
Apple's chief executive, Tim Cook, said: "Sales for iPhone 6 and iPhone 6 Plus exceeded our expectations for the launch weekend, and we couldn't be happier."
He said sell-through – phones bought by end customers rather than by mobile networks – had shattered previous figures "by a large margin". Apple is able to measure sell-through based on phone activations, which require the device to contact Apple servers during setup.
The new phones, which have 4.7in and 5.5in screens respectively, catching up to the larger screen sizes used by many other handset manufacturers, were unveiled on 12 September and went on sale on Friday. About 4m pre-orders, which are included in the first-weekend figure, were submitted the week before.
Analysts expect the new devices to fuel a record quarter of sales between October and December, though that may hinge on whether the new iPhones get approval for sale in China.
Analysts say the premium end of the smartphone market is slowing down, but Apple hopes its larger, thinner devices will tempt users of phones running Google's Android operating system.
In the US, where Apple's base is strongest, iPhones make up more than 40% of smartphones in use, and nearly a third of all phones. In a survey by Gazelle, a Boston-based phone trade-in company, a third of Android users said they were likely to move to the iPhone 6, up from about 10% a year ago when the iPhone 5S and 5C first went on sale.
Use of Android phones is far higher outside the US, making up around 80% of handset sales, according to data from IDC. Apple's introduction of a 5.5in phone aims to catch the rising wave of sales of such "phablet" (for phone-tablet) devices, which IDC says made up over 20% of all smartphone sales in China in 2013.
The number of iPhones bought in the first three days after new models go on sale has climbed over the years as Apple's user base has increased, giving it a growing number of customers looking to upgrade. At the same time, the number of mobile carriers that work with Apple has grown.
This year the new phone was released simultaneously in the US, UK, Australia, Canada, France, Germany, Hong Kong, Japan, Puerto Rico, and Singapore. From 26 September Apple will offer the phone in another 20 countries, and it will be on sale in 115 countries by the end of the year.
Apple has continued selling the iPhone 5S and 5C, at reduced prices. The new figures exclude sales of those handsets.
The Chinese government has not yet approved the iPhone 6 or 6 Plus for sale, although previous generations of Apple's products have sold strongly there. No reason has been given, and there is speculation that the delay is to give local rivals a better chance to win sales, or because the authorities may be concerned that Apple has made the phones more difficult to tap by increasing security.
Taken from the Guardian
---
Share this post
---
---